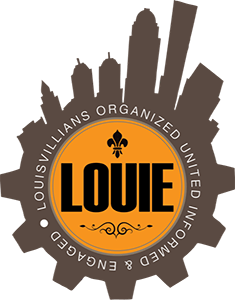 Louisvillians: Organized, United, Informed & Engaged is a partnership between the Library Foundation, the Louisville Free Public Library, the Leadership Louisville Center and the Friends of the Library designed to facilitate communication and interaction between elected officials—both state and local, and constituents through a series of informal meetings at Louisville Free Public Library locations.
Events occur Saturdays from 9–10 a.m.
What you can expect at Café Louie?
Café LOUIE is designed to be an informal gathering of civic minded individuals interested in meeting with their elected officials to discuss local issues. When you arrive, grab a cup of Heine Brothers coffee and fill out a notecard with your specific question(s). After a brief introduction of elected officials and special guests, a trained facilitator will direct your questions to officials for comment and discussion.
All Café LOUIE meetings begin at 9:00 a.m. Stick around after the event for additional programming available at some branch locations, register to vote with the League of Women Voters, sign up to be a Friend of the Library, or just visit your local branch and check out a good book!
Café LOUIE highlights the library's role as community convener—providing a safe space for citizens to come together to address critical issues affecting our city. It also provides an opportunity to demonstrate to legislators that libraries continue to be vital and vibrant neighborhood gathering places. By promoting the civil exchange of ideas, libraries also help to strengthen the intangible bonds that weave together a true community.