BENEFITING, PROMOTING, SUPPORTING, ENCOURAGING, AND ENHANCING THE PROGRAMS AND SERVICES OF THE LOUISVILLE FREE PUBLIC LIBRARY SINCE 1980.
A NOTE ON CORONAVIRUS COVID-19

The health and safety of our patrons is a primary concern for the Library Foundation. Therefore, in response to the current concerns about the COVID-19 virus, the Library Foundation has decided to cancel all and Branch Out events until further notice. We will continue to follow the recommendations from the Louisville Metro Department of Public Health and Wellness as well as state public health officials and will continue to keep you informed as we make decisions concerning future events. For more information on COVID-19 and LFPL Programming visit the Louisville Free Public Library Webpage
SUPPORT LFPL SUMMER READING
Help the Library Foundation raise $100,000 to provide books to children and teens. At an average cost of $2 per book, every donation makes a BIG impact!
$10 = 5 books
$100 = 50 books
$1,000 = 500 books
$10,000 = 5,000 books
Due to COVID-19 and the temporary closure of our libraries, access to resources such as books and programs could be a challenge this summer, especially for families who lack digital resources. To ensure Louisville's children and teens have books in their hands, the Library Foundation is raising $100,000 to give away at least 50,000 books as part of LFPL's Summer Reading program.
If you'd like to help the youth of our community avoid the "summer slide" loss of learning – so important this year when all of our youth missed months of valuable in-school time – we encourage you to donate today.

Designate Summer Reading 2020 in the gift designation box.
DOLLARS RAISED AS OF 5/29/2020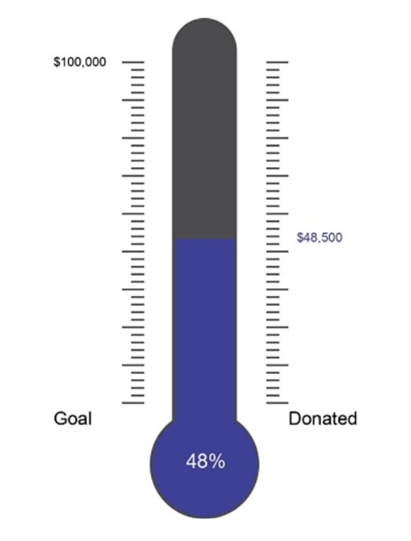 $48,500 = 24,500 Books. Help us Reach $100,000 and 50,000 Books!

The Library can help you stay informed, entertained, and engaged for FREE – without leaving home!
As you know, the Louisville Free Public Library (LFPL) has temporarily shut it's doors, but during this time of uncertainty and social distancing, LFPL is still bridging the physical distance between us and allowing our community to continue to learn, to grow, and to engage. How can you help LFPL provide important and free services? Want a full list LFPL online resources?    Read On! 

The Library Foundation is celebrating 40 years!
Since 1980, the Library Foundation has supported the Louisville Free Public Library by raising private dollars to supplement public funding received by LFPL. Public dollars from state and local governments cover only a portion of the library's expenses. It takes community members – like you – to add a margin of excellence that the community wants and needs in a library system.
Read what the Foundation has been up to for the past 40 years!

KEEP THE PAGES TURNING WITH YOUR MONTHLY GIFT!
The Louisville Free Public Library is an essential resource for the entire community. Page Turners know that strong libraries equal strong communities. Help us to write the next chapter for the Louisville Free Public Library. Consider a $40 per month Anniversary Gift – Your anniversary gift will fund Early Literacy Initiatives, Summer Reading Programs, STEAM Programming, Adult Literacy Programs, Author Events, How-To Festival, New Books, Technology and Equipment and more!

LOUISVILLE, Ky. (May 5, 2020) – Despite its buildings being closed and nearly 90% of its employees now on furlough due to
Read More »
Sign up with your email address to receive news and updates.