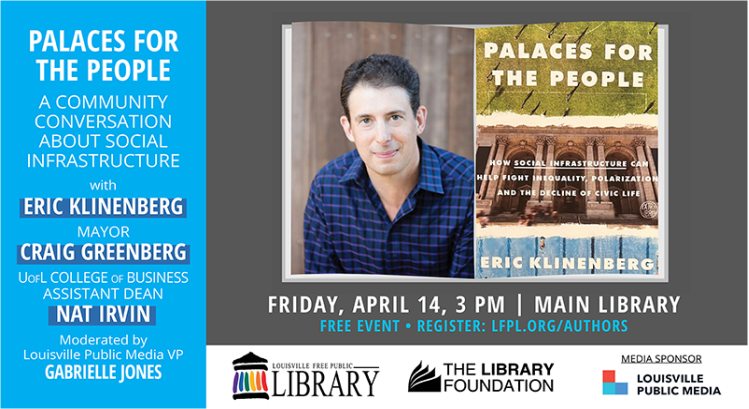 FOR IMMEDIATE RELEASE                
Library and Library Foundation welcome renowned sociologist Eric Klinenberg, Mayor Craig Greenberg, and UofL professor Nat Irvin for a community conversation about social infrastructure and the future of Louisville 
Friday, April 14, 3 p.m. at the Main Library
LOUISVILLE, Ky. (March 23, 2023) – Americans are living in a time of deep divisions – experiencing a level of polarization unseen since the Civil War. How can we come together as a nation again? Sociologist and urban studies scholar Eric Klinenberg, author of Palaces for the People, suggests that the future of our democratic society rests not simply on shared values, but on shared spaces: the libraries, childcare centers, churches, and parks where crucial connections are formed. Through his extensive research, Klinenberg shows how this "social infrastructure" is helping to solve some of our most pressing societal challenges.
The public is invited to join Eric Klinenberg, Mayor Craig Greenberg, and Nat Irvin, Assistant Dean for Thought Leadership and Civic Engagement in the University of Louisville's College of Business, for a community conversation about our city's social infrastructure and how it may offer solutions to some of Louisville's critical issues. Louisville Public Media's Vice President of Content, Gabrielle Jones, will moderate the discussion.
This free event will be held at the Main Library, 301 York St., on Friday, April 14 at 3:00 p.m. Doors open at 2:00 for networking and conversation with social infrastructure partners. Register online at LFPL.org/Authors or call (502) 574-1644.
# # #