Their stories began at LFPL …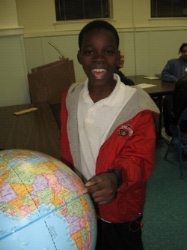 ONCE UPON A TIME, MOHAMMED HAJI AND HIS FAMILY CAME TO THE U.S. AS REFUGEES FROM SOMALIA.
They first visited the Iroquois Library in 2005 — the children have grown up in the library, attending English Conversation Club meetings and volunteering to serve food and teach about their culture. The children had been taught entirely by rote, in a language with no written component, and with many interruptions to their education. Pictured here at Iroquois in 2008, Mohammed is now a scholarship student at the University of Kentucky studying engineering.
ONCE UPON A TIME, LFPL LAUNCHED A GIRLS' STEAM CLUB AS PART OF AN INITIATIVE TO ENGAGE GIRLS IN STEM FIELDS — THOSE IN SCIENCE, TECHNOLOGY, ENGINEERING, AND MATH — AND EMPOWER THEM TO PURSUE THOSE FIELDS IN COLLEGE AND CAREER.
The Library Foundation received a grant from Women 4 Women in 2016 to support this expanded LFPL programming.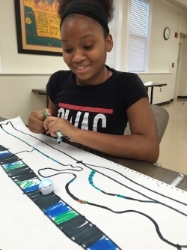 The Girls' STEAM Club launched in November 2016, and incorporates the arts into STEM through design and creative thinking — hence "STEAM."
The club rotates between library locations. Attendees used laptops purchased with grant funds to access Code.org for part of the session. The sessions also include a hands-on activity, ranging from designing weight-bearing structures or working with Ozobots and Spheros robots — all equipment purchased with grant funds.
Find the library's STEM-related activities on the events calendar.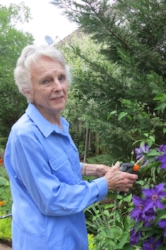 ONCE UPON A TIME, MARY LOUISE GORMAN GREW UP IN A SMALL TOWN IN SOUTH DAKOTA, WITH THE LOCAL LIBRARY AS HER LIFELINE DURING THE GREAT DEPRESSION, THE DUST BOWL, AND LONG MIDWESTERN WINTERS.
There was a Carnegie library in the town of Aberdeen, but ML remembers a limited selection of children's books. Instead, she often opted for books written for adults.
Today, ML is amazed by the resources available to LFPL patrons, especially for children. "My granddaughter can go to the library, and there is a never-ending supply of books just for her!"
ML also finds the availability of computers gratifying. She notes that there are computers accessible to everyone. "Some people don't have access to technology at home — the library provides that access."
Because of the impact the library has had on her life, ML included the Louisville Free Public Library in her estate plans.
"I'm obligated, in the best way, to support the institutions that have helped me," she said. "Libraries have touched so many lives, and those lives should give back."
ONCE UPON A TIME, SEAN WARWICK RELIED ON THE LOUISVILLE FREE PUBLIC LIBRARY FOR HIS EDUCATION.
For 17 years, Sean Warwick has worked behind the scenes at the Louisville Free Public Library in the computer services department. But his passion for the library started much earlier — and will continue to grow, as Warwick is a Library Foundation scholarship recipient working to complete his master's in library science.
"From a very early age, the library has been one of the most important places in my life," he said.
As a child, Warwick was fascinated by libraries. His father, an ardent reader, took him to the library regularly. In middle school, Warwick's parents decided to homeschool him and the Southwest Branch became, quite literally, his school.
"The staff at Southwest always made visiting the library extra-special," he said, citing librarians Theresa Lukas — still at Southwest — and Marci Reed as two who helped him find the resources he needed and uncover new topics.
"I learned very quickly the value of the library," Warwick said. "I had the seed planted in my mind that the library was the place to go for education."
In fact, the library has influenced his career several times. The library was — not surprisingly — his first job.
As a teen, Warwick applied at Southwest, and a Meijer. Meijer called first but Warwick delayed — and started as a page in 1999.
"Once I go into the system, I could see how the library was progressing in (information technology)," Warwick said.
Warwick had started exploring the information technology section at age 13 and was interested in the growing field. Using only books he checked out from the library, Warwick later earned his CompTIA A+ certification, a highly-respected starting point for an IT career.
That certification opened the door for Warwick to apply for a job in computer services at LFPL.
"The key to the whole system was a library card!" Warwick said.
Meanwhile, Warwick was continuing his education. He completed an associate's degree at Jefferson Community and Technical College before completing his bachelor's at the University of Louisville.
"There are a lot of people in the library system who really encouraged me," he said. "I started thinking even back then about getting my (master's in library science) as a way to get even more involved."
First, though, he completed a dual master's in business administration and in managing information technology degrees at Sullivan. He also moved to a more senior position in computer services, as a PC Analyst II.
Warwick can help patrons retrieve documents they thought were lost on the computer, which can have a huge impact. "That resume they were working on could be the difference between someone being homeless or that person skyrocketing," Warwick said.
But he still wants to give more back to LFPL. "I look around and thought, 'something's missing,'" Warwick said. "I want to be on the other side, to help get the message across, to help get things done."
Warwick continued to feel earning his MLS would be a better way for him to serve LFPL and his community. "It would allow me to use my love of the library to further the cause," he said.
And The Library Foundation — thanks to donor support — was able to help Warwick pursue his dream. He is one of five current scholarship recipients. Each is an LFPL employee looking to further their career with the library, and all are enrolled in the University of Kentucky's program.
"I feel more impassioned than when I started the MBA," Warwick said. "I know I'm getting closer to where I want to be."
Since 1999, The Library Foundation has sponsored 76 Louisville Free Public Library students in their pursuit of their master's degrees in library science. These scholarships have totaled nearly $865,000, including the five students currently receiving scholarship funds.
Warwick hopes to move into a position where can use both his professional and personal library experiences to make a difference in patron's lives and in the system itself.
"You can make such big change just by talking to someone," he said. "A few words of encouragement can make a huge difference."
After 17 years of working at LFPL, Warwick said his goal is to stay at LFPL "as long as they'll have" him.
"I want to be part of planning the library's future," he said. "I think I've got a lot to give."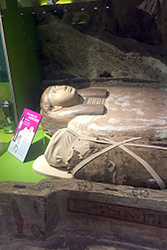 ONCE UPON A TIME, THE LOUISVILLE FREE PUBLIC LIBRARY ALSO HOUSED A MUSEUM COLLECTION — INCLUDING AN EGYPTIAN MUMMY.
Mummy Then-Hotep first came to America for the 1904 St. Louis World Fair. Kentucky Lieutenant Governor S. Thruston Ballard purchased the mummy and gave it to the Louisville Free Public Museum, part of the Louisville Free Public Library. The museum was located next door to the Main Library, at 5th and York.
In the 1800s, it was common for libraries to include "cabinets of curiosities," so patrons could inspect tangible, visual evidences of what they read about in scientific and historical books.
When the 1937 flood struck, the sarcophagus floated for nearly two weeks before the waters receded. The mummy was found, head now detached, out of the sarcophagus and under some furniture. LG&E used a water-removing vaccum combined with an oven to restore the mummy.
"We now have the only boiled mummy in the world," wrote Lucien Beckner, director of the Louisville Free Public Museum, in 1939.
Then-Hotep was restored and placed back on display. The Louisville Free Public Museum became the Natural History Museum, then the Museum of Natural History and Science in 1977. It is renamed the Louisville Science Center — now the Kentucky Science Center, where Then-Hotep is currently on display.
One of the science center's most popular attractions in its early years, the mummy was first x-rayed in 1985 in an attempt to determine cause of death. Shattered femurs and fractures in the back of the skull could indicate cause of death — but also could've occurred during the mummification process or during the flood. Anthropologist Virginia Smith created a facial reconstruction with clay in 1989 to show what the mummy may have looked like.
But in 2000, the mummy was moved into storage despite being a patron favorite.
In 2004, the science center embarked to further identify the mummy. Despite the previous x-rays, Then-Hotep's age, gender, and cause of death remained a mystery. Baptist Hospital East provided x-rays, endoscopic examination, CT scans, and other diagnostic imaging.
The details of the examination were announced when the mummy returned to public view as part of a new permanent exhibit, "The World Around Us," in 2005.
They discovered the mummy's heart and brain were still intact — an uncommon finding. They were also able to determine leg and pelvic fractures occurred during the 1937 flood. They estimated age at death in the 30s to 40s. However, it wasn't until 2008 that it was concluded the remains were female!
You can see Then-Hotep on display at the Kentucky Science Center.
DOES YOUR STORY START AT LFPL?
Whether it was checking out a book that led you to your career, a library staff person who encouraged you to learn something new, or a program that led you to a new opportunity, we want to hear about it! Careers, hobbies, or becoming the best version of yourself — tell us! Email lfplfoundation@lfpl.org or use the hashtag #lfplstories.
YOUR GIFT CAN OPEN A NEW CHAPTER FOR SOMEONE IN OUR COMMUNITY. DONATE TODAY!