Library Foundation, area donors join to help LFPL reach underserved in Louisville

FOR IMMEDIATE RELEASE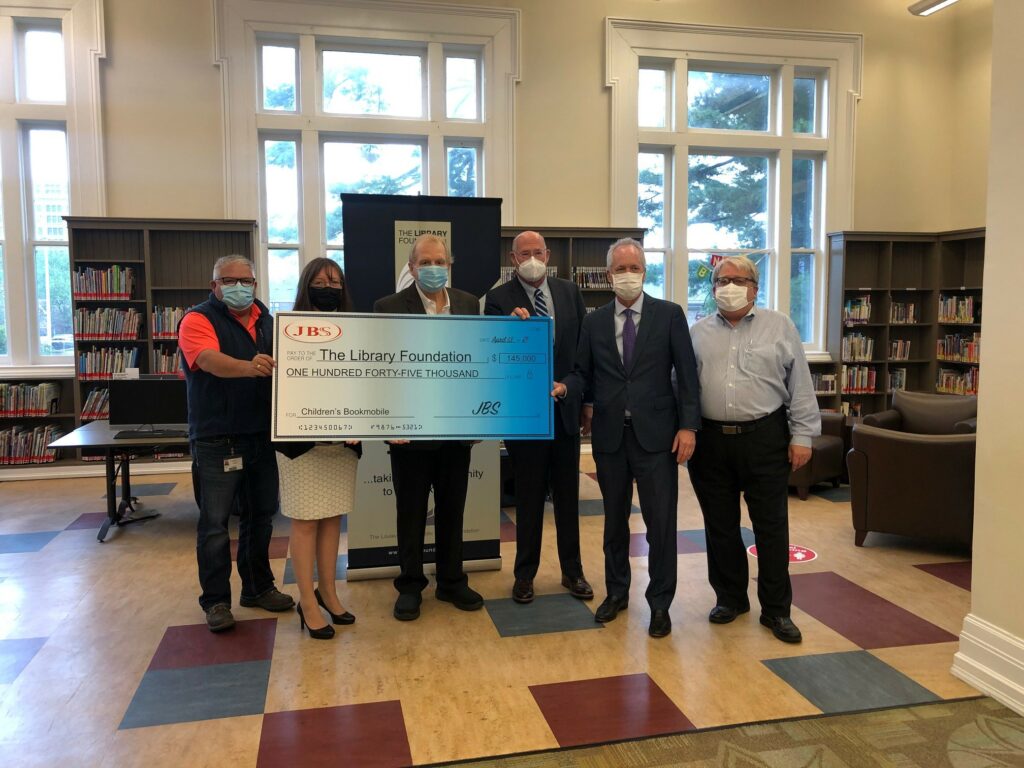 LOUISVILLE (April 13, 2021) – Mayor Greg Fischer today joined members of the Louisville Free Public Library, The Library Foundation, and JBS Louisville to announce that Louisville is getting a new Children's Bookmobile, thanks to some generous donors.
The purchase of a new bookmobile comes at a critical juncture in Louisville. Only 35% of Jefferson County Public Schools (JCPS) 4th graders score at or above proficient in reading. Two out of every five JCPS students are facing housing insecurity. Meanwhile, more than 10% of students have struggled to access educational resources via remote learning during the COVID-19 pandemic. The pandemic has also highlighted disparities in access to the library's resources for families without reliable transportation or dedicated internet in the home.
"Those with the greatest need for information and resources are often the individuals who have the most barriers to access it. Bookmobiles enable us to provide books and services directly to children in our community – meeting their needs where they are," said Mayor Greg Fischer. "Today's announcement takes us one step closer to reaching even more children with educational resources that will set them on a path for success."
When furnished, this new mobile library will visit daycares, YMCA programs, community centers, and faith-based organizations, as well as parks, block parties, and more—delivering not only books, but also library storytimes, sensory experiences, and innovative programming to under-resourced communities. The vehicle will also be equipped with computers and free, accessible Wi-Fi.
"A new bookmobile will not only allow us to provide more continuous and dependable service to the community, but with the purchase of a larger vehicle, we will be able to carry more books and serve more children," said Library Youth Services Manager Kate Schiavi. "With the help of donors to the Library Foundation, we are excited to strengthen our commitment to ensuring that children in our community have access to resources that will help them be successful in school and life."
The Bookmobile project was made possible by a generous donation from Eleemosynary by LMH Foundation, which challenged area donors and organizations to match funds. JBS more than answered that call donating $145,000 toward the purchase of the vehicle. To date, The Library Foundation has raised $257,500 to fund the project.
"We are proud to partner with others in our community to make this meaningful impact for children in Louisville," said Pete Charboneau, general manager, JBS Louisville. "Investing in future generations is something we believe in, and we look forward to seeing the positive impacts the bookmobile will have. Through our Hometown Strong initiative, we are contributing $1.2 million in the Louisville area."
"We are excited to announce these generous gifts," said Chandra Gordon, Executive Director of The Library Foundation. "Together, the community can put this bookmobile on the road and into our neighborhoods, serving the children who need it the most."
While the funding goal has been reached to purchase the new Children's Bookmobile, fundraising is ongoing as The Library Foundation looks to raise another $50,000 to outfit the vehicle with books and technology. If you would like information on how to donate, visit www.lfplfoundation.org.
Library staff anticipates the bookmobile will be ready to roll out in spring 2022.
# # #
Louisville Free Public Library connects the residents of Louisville and Jefferson County to knowledge and information at our library locations and on the web at LFPL.org. Come on in, the whole world's inside.